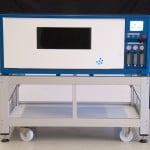 Due to the unique two dimensional movement and superior mass transfer and mixing properties, the CELL-tainer® can achieve cell growth rates and productivity never seen before in single-use bioreactors, comparable to traditionally stirred bioreactors, but with all the advantages of a single-use bioreactor.
Read more
In cooperation with the Technical University Berlin and DMT GmbH, the renowned CELL-tainer® single-use bioreactor technology is scaled up to working volumes up to 200 Liter.
Due to an innovative expansion system, the starting volume can be 150 mL in a 20L bag, ensuring a full expansion process in one and the same bag. This results in lower costs (less handling, less bags) and reduction of contamination risk.
Read more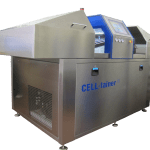 Celltainer Biotech developed a multi-purpose single-use bioreactor, suitable for microbial fermentation as for fragile cells. The CELL-tainer® makes use of a unique 2-dimensional movement principle (patent protected) which ensures high mass transfer at high rocking speeds and gentle mixing at low rocking rates.
This technology, combined with a unique bag design results in high-performance bioprocesses providing a high productivity at low costs for a wide variety of applications.
Celltainer Biotech BV collaborates with both scientific and commercial partners. The scientific partner network ensures a high-level of process understanding and support to our customers. New developments are done in collaboration with clients and our scientific partners.
For certain regions we have selected well reputed distributors. If you are interested to represent our product in your region, please feel free to contact us.